I am currently on a Keto diet and I desperately wanted some pizza the other day. I do love cauliflower crust pizza but the ones that you can buy at the store still have a lot of carbs. Plus who in the world only eats 1/4 of those pizza's. Stop lying to us, the entire pizza is the serving! Anyway, I was playing around with making some myself so I can be sure it has very few carbs and can fit into my day on Keto. I play around with food a lot but this turned out so perfectly I couldn't help but write it down and share it with the world! I mean it is GOOD. Full of fat (I really mean that!) and healthy calories and only 4 net carbs. Plus it is so filling you will not feel the need to eat anything else after a slice of this. Instead of making you scroll through a ton of bullshit I'm just going to skip right to what you need to know:
Ingredients:
Pizza crust:
1 head of cauliflower, riced
100g of Almond Flour
90g of Sharp Cheddar cheese, thickly grated (you can really sub this with any cheese but I think the flavor profile of the sharp cheddar was really complimentary to all the other flavors.)
3 eggs
Salt, pepper and garlic (fresh or powder) to taste
Pesto:
25g Dandelion greens (yes, the ones in your backyard! As long as you and your neighbors don't spray them. This can be subbed with spinach or basil or any dark leafy green. But the Dandelion leaves are free and healthier than spinach or kale, especially if they're store bought as these are at the top of the dirty dozen list)
55g of walnuts
8g nutritional yeast (this recipe already has a lot of cheese so I'm using a healthier substitute for my pesto, you can always use Parmesan which is the classic.)
Lemon juice from 1/2 a Meyer lemon
3 Tbsp Olive oil (This is where a lot of the fat comes from, if you want to knock it down a bit you can use only 1 or 2, just decrease the lemon juice and nutritional yeast a little bit)
Salt and pepper to taste
Toppings:
You can use anything you like really, I used about an entire bag of cheddar cheese (again you can decrease total Cal/fat of this recipe if you use a little less) and some German summer sausage.
Equipment:
Food Processor for the pesto
Large bowl and spoon for mixing
Cookie sheet and parchment paper for baking
Instructions:
Preheat oven to 415° F
Drain the cauliflower rice – Cauliflower has a lot of moisture that is going to make your crust impossible to make without this step. First cook the rice in the microwave for about 2 minutes. Then transfer the cauliflower to a cheese cloth or thin kitchen cloth and squeeze all of the excess water out. When you're finished it should look like a ball of dough (tip: you really can't squeeze too much so if you aren't sure if you are there yet, just keep squeezing).
Add the almond flour, cheese and seasoning to your cauliflower ball and mix until you have a pretty homogeneous mixture.
Add the eggs to the mixture and mix a bit more aggressively to get some air into those eggs.
Line a cookie sheet with parchment paper. You can spray it or use some oil so nothing sticks but you shouldn't need to; this crust shouldn't stick (in my experience, but if you want to be safe rather than sorry then give it a little spray, it won't hurt)
Spread the dough evenly on the cookie sheet. It shouldn't be too thick but it also shouldn't be too thin, mine was roughly less than 1/8 in thick. This dough won't rise very much so make the thickness to your liking but just know that if it is really thin you won't need to cook it as long. If it is really thick you will have to cook it longer, the important part is that the thickness is even across the entire sheet.
Pop it in the oven for about 12 min. (depending on thickness, you may need more or less time, just keep checking on it) It will cook for a little longer after this step so if it is still a little bit gooey in the middle that is okay, you definitely don't want it to be over cooked at this stage.
While the dough is baking, make your pesto! Throw all of the ingredients (dandelion greens, 40g of the walnuts, nutritional yeast, lemon juice, olive oil and a little salt and pepper) except about 15g of walnuts into the food processor and mix until you have a nice creamy consistency. When it is just about finished, add the rest of the walnuts in and blend just a little bit further. This last step will let some of the walnuts be in bigger chunks and this adds a really satisfying crunch! If you are not into that, just add all of the walnuts at the beginning.
When the dough is ready, take it out of the oven. Add the pesto and all of your toppings and pop it back in the oven for another 5-8 minutes or until the crust and cheese are just starting to get a nice light brown around the edges.
Pull it out of the oven and let it cool until it is at temperature a temperature suitable for consumption. It is ideal to transfer it to a wire rack to cool (this will help keep the bottom crispy) but I didn't have one so I didn't and it turned out just fine.
Nutrition facts: (These are my estimates from breaking down every ingredient, it may vary depending on what you use)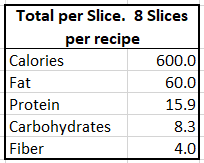 Now enjoy all of the healthy vitamins and minerals without any refined sugar and very few carbs. I have been struggling with my macros on Keto. It is so hard to get enough fat without eating too many carbs, especially when you only eat real whole foods. If I can have a slice of this pizza every day I am usually able to achieve my goal ratios for the day and it is so good and so filling. This recipe is a win!
If you give it a try let me know how it goes!