In December last year I signed up for a course that would change my life. I decided to get my RYT 200 or my yoga teacher certificate in Peru, the best decision I've ever made. The specific training that I went to was exceptional so I'd like to go into more about yoga and how to pick a teacher training in another post. After that experience, I took advantage of my global location and traveled around Peru and Bolivia for another month, by myself, and I had the most amazing time. I am sharing a few highlights, tips and mistakes for your entertainment and/or research. I often reference the quote "you live and you learn" and I can apply that to many experiences from this trip. A lot of them are good and some of them are bad. The bad ones, as always, are the most useful. If you find yourself planning a trip to South America or dreaming of one there is something in here for you. There are a lot of travel blogs out there (especially for the solo female traveler, which I never realized we were a thing until people started talking about it recently…); Google the word "Peru" and you'll be able to find the majority of the information included below. So why keep reading this one? (it's not even really a travel blog…) Well, you live and you learn…
First reason: You're already here.
Second: I promise to use helpful diagrams instead of paragraphs of written word for you visual learners…
My Trip Itinerary by City:
Pisac >Cusco >Puno >Copacabana >La Paz >Uyuni >Arequipa >Nazca >Huacachina >Pisco >Paracas >Lima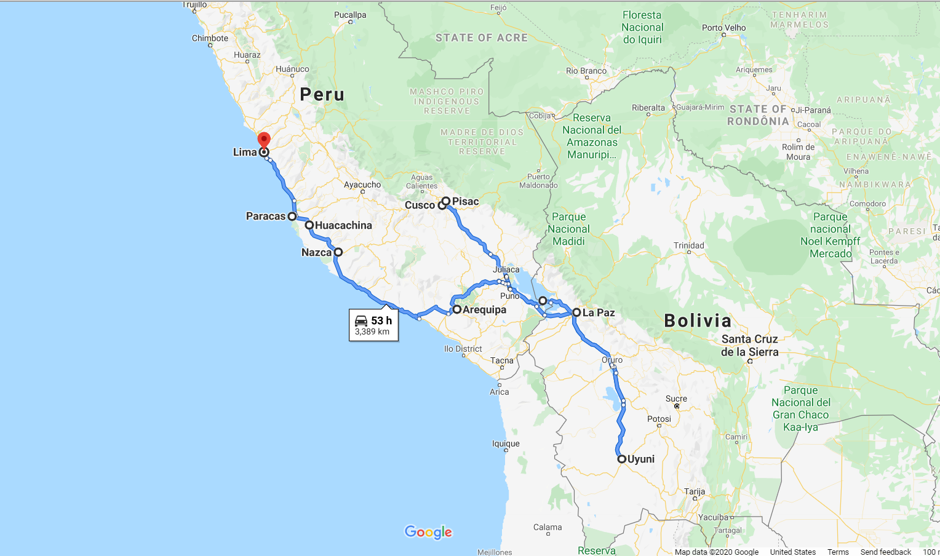 Third: trip impressions, tips and generalizations:
1. Bolivia has pretty bad food.
2. Bolivia is also not the best place if you want the luxury of a nice shower or a bathroom break that includes toilette paper.
a. The bathrooms in this country absolutely top the list for the most unclean, small and disgusting that I have ever been in. Most importantly, all of them. Not just one or two here and there but pretty much the vast majority. And the best part is that you have to pay to use them.
3. Peru has pretty mind-blowing food. Especially after you've been in Bolivia for a few weeks.
4. Guinea Pig is expensive… surprising.
5. All of the tours are essentially the same even though you will find about 10-30 different options to book them. The way it works seems to be that they have many different marketing arms for the same actual tour company or guides. You can shop around but you are pretty much going to get the same thing no matter which one you choose. Maybe except for tours with equipment like mountain bikes; some companies take much better care of their bikes than others.
6. It is very difficult to be a vegetarian in South American. The larger cities are an exception as Vegan restaurants seem to be a new trend and it is easy to find a few in touristy places. But in the majority of places, there are not many vegetarian options; they'll just give you rice and some iceberg lettuce.
7. Every tour guide is different and brings a different energy to a tour so this point is hard to generalize but there seemed to be a higher percentage of tour guides that really didn't care very much and just did the bare minimum to finish the activity. Again, this is not all of them. But I do think there are a higher percentage that just don't really care and will make the tour a bit less enjoyable. How do you steer away from acquiring one of these lack luster tour guides? I don't think you can, they all seem to work for l the same tour companies, it's just luck of the draw. If you are up for paying twice as much or more there are a number of western owned companies you can book with, accommodation will probably be better and I'm sure they screen their guides. I did not choose to book anything above the standard tours so I can't make any recommendations for those.
8. As far as being a traveler, South America is a great place to meet people. Much like South East Asia because of the prices there are a lot of younger people also visiting these places and you are bound to find someone with a similar itinerary to you. On tours, in the hostels or on the buses, you will be able to meet new friends and fellow travelers if that is on the list for your trip.
9. There will most likely be a dried fruits and nut stand at any market you come across. If you see little green slices of something that is pretty undistinguishable (maybe a lime????) it is grapefruit rinds and they are AMAZING. Buy them.
10. The Fruits!!!! Try them all. Below are a list of some of my favorites with my own personal rating, but seriously, try them all. This is not a comprehensive list, there are so many more, don't be shy with the fruits they are all so worth it, even the ones that aren't 😉.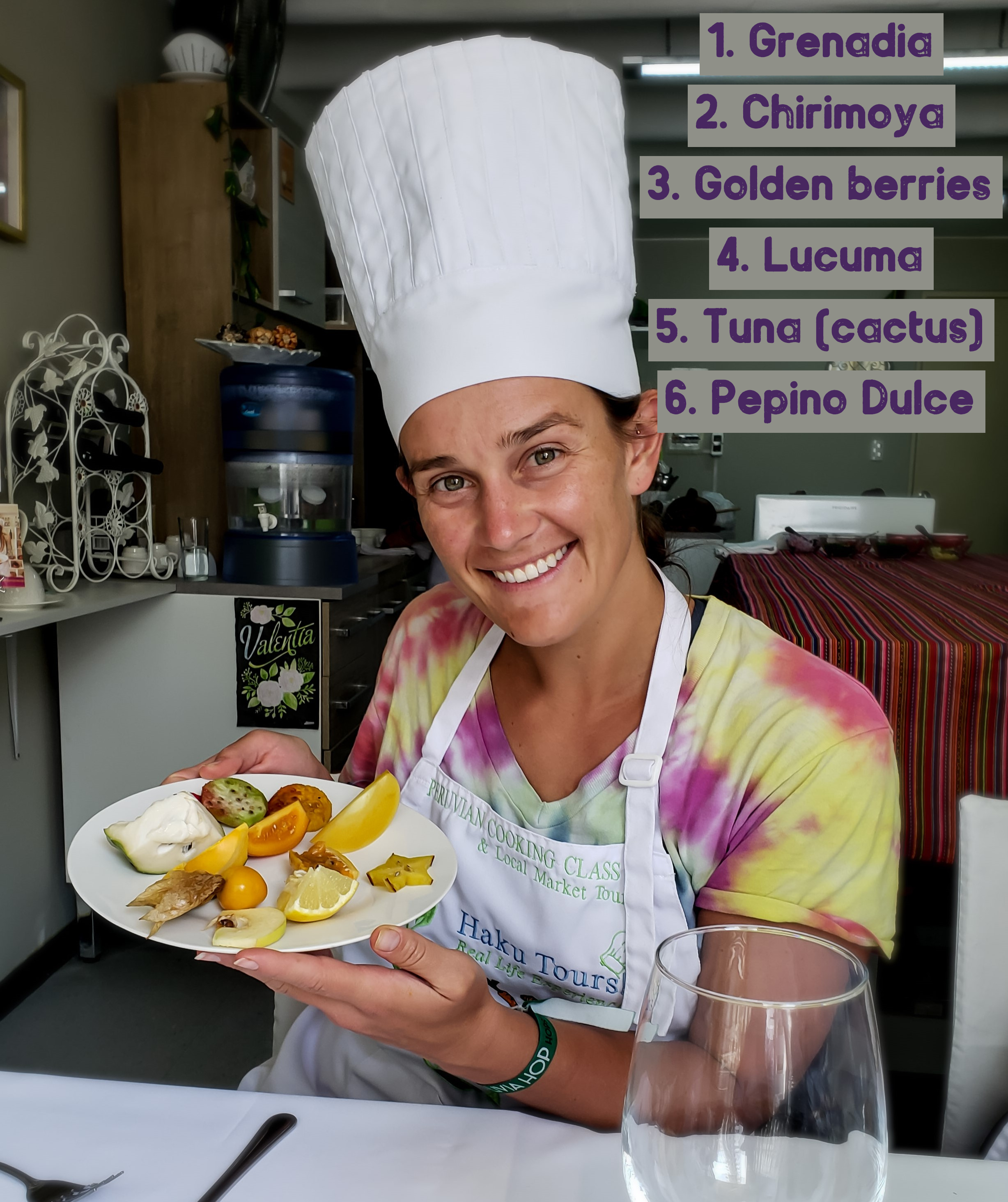 11. Timing: I traveled during the "off-season" however I was there over Christmas and New Years so it wasn't entirely "off". December and January are the beginning of the rainy season, particularly in the mountains like Cusco and La Paz. Overall the weather was good; there was some light rain here and there but it rarely lasted more than an hour with the rest of the day being nice. Don't let "rainy season" deter you from visiting. It was nice to be there and not have to deal with everything being overcrowded. I will note that some tour guides told me that as rainy season goes on it does get a bit worse but if you go in the beginning or end of the season it will most likely not be a big part of your trip (As per my experience, weather is weather and can change a lot from year to year).
Fourth: Mistakes that I made that now you don't have to:
1. I didn't want to stay in La Paz for more than a day but I was traveling over the holidays and arrived the day before new years eve. Everything in the country shut down for two days and I was stuck there for longer than I wanted to be.
a. I don't plan my travel. I went with a general idea of the path that I would take but I never booked any hostels or transportation until the day before or even the day of so that I could have the flexibility to be wherever I wanted whenever. In case I really loved or hated a place. I did run out of time to see everything that I wanted towards the end of the trip which is the danger of traveling this way. A good reason to have to go back 😊 .
2. I found a brand of chocolate in Cusco that I absolutely fell in love with. Like the best chocolate that has ever graced my lips, unforgettably good chocolate (Ancestral). I obviously planned to stockpile this chocolate for my way home, ya know to give to friends and family, not to keep all for myself or anything. I decided to buy a bunch of it in Lima which was my last stop, so I wouldn't have to travel around with it for weeks (there would have been significantly less that actually made it home if that would have been the case). I saw the brand everywhere so I thought for sure I could get it anywhere in Peru. Wrong. I couldn't find it anywhere in Lima and ended up going home empty-handed and heartbroken.
3. I had an overnight layover in Lima before flying into Cusco. I also had a long layover on another connecting flight so I used my AAA discount to buy a Priority Pass for lounge access so that I could sleep in the lounge in Lima. It seemed worth it at the time. When I arrived in Lima the security gates were closed and would remain closed until the next morning so there was no way to access the lounge. I discovered that most major airlines only fly into Lima and then local flights only leave the next morning so there are a lot of people that get stuck in that situation. People were sleeping all over the small airport; everywhere I turned people were splayed out on top of luggage trying to catch some Zs. Being alone in a country where I don't speak the language very well and having ALL of my luggage with me I just didn't feel comfortable falling asleep in the airport, so I decided to get a hotel. The airport is next to a bad part of town and especially at midnight it was not very safe to be out; I had no choice but to book one of the big hotels right next to the airport. These are incredibly overpriced! They know that many people are going to get stuck overnight and have no other options and they take advantage of it. It cost $180 USD for the night when the average price I was paying for a hotel was about $25-40 USD for an average hotel room, $5-12 USD for hostel accommodation. I was able to talk him down so it wasn't quite so expensive, only because it was already 1am and I would be leaving before 8am and I negotiated with him for a long time before he just wanted me to go away. I don't think it is common practice. Needless to say, I wasted a lot of money just because I wasn't prepared for the situation. In talking to other travelors it seems like sleeping in the airport is pretty safe and if you are not comfortable with that do your research and secure a hotel ahead of time. Less expensive ones are a bit further out but be sure to be aware when getting a cab.
Fifth: Helpful links:
Highly recommended bus transportation and tours
Good resource for cheap accomodation
If you want to learn more about what fruits to try, this website goes into more details about all of the good ones and what they look like
**I don't have a link for any tour companies because as I mentioned before, they are all pretty similar. Also, I wouldn't recommend booking that far in advance, I booked everything the night before or the same day and it was really easy to get into anything plus I got to talk to somebody in person or on What'sApp. (Disclaimer: that might not be the way to do it if you are there during high season!
If you are planning your own trip and want to know more or if you have any questions please leave a comment or send me an email, I'd love to hear from you!